Camp Headquarters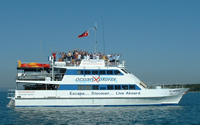 MV Supersport, the 24m OceanXplorer mothership, began her working life as a dive charter boat operated out of Cairns by Mike Ball Dive Expeditions until 2006.  Thousands of divers from all over the world explored the Great Barrier Reef from her decks.  OceanXplorer continues the tradition of 'opening up a whole new world at sea' to a new generation, by bringing MV Supersport for the first time ever to Moreton Bay.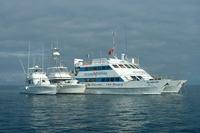 Your OceanXplorer mothership has satisfied stringent marine safety requirements to travel in open seas, although at Boat Camp, you will remain at a comfortable cruising speed of up to 12 knots, within the sheltered waters of the bay. 
Features include -
15 air-conditioned cabins, allowing for one to three people per cabin
Seating for 36 people in an open-space saloon, with audio-visual equipment, a marine library and several seating areas for 'breakaway' discussion groups
An alfresco deck with boardroom table and barbecue facilities
A large upper sundeck, with bean bags and hammocks
Multi-purpose dive and water sports deck
2 X IRB support tenders for marine safety
A floating Classroom
Discover the sub-tropical waterways of Moreton Bay and its islands east of Brisbane, Queensland, in a floating classroom where adventure and learning above and below the sea top the curriculum.
OceanXplorer's mothership, support vessels and own fleets of canoes, kayaks and sailing dinghies, combine to offer a 'Boat Camp' program for years 7 to 12 students especially developed to complement marine studies syllabuses.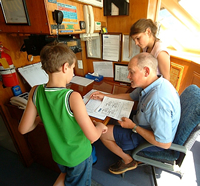 Fully qualified instructors work with teachers to lead a comprehensive exploration of the marine environment. All OceanXplorer staff hold a Blue Card in line with Queensland Education Department requirements.
Learn about marine science principles, learn the basics of sailing and sea-kayaking, discover conservation values and broaden your marine leadership knowledge with skills of marine safety, weather and the environment, while developing personal, team and mate-ship skills.
Take a full day excursion out on the bay (up to 80 passengers) or live-aboard for an overnight stay (26 passengers).