Save the environment for all to enjoy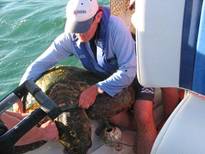 Travelling out to OceanXplorer's mothership, SuperSport, in March 2007, Jon Day notices a 5 litre plastic oil container floating on the surface in the boat's path. On closer investigation he realizes there is an adult green sea turtle attached to the black plastic container by a green rope. He slows his vessel and with the help of crewman Colin, tries to catch the turtle and container. After several failed attempts to rescue the trapped creature, Jon jumps overboard and grabs hold of the turtle as it gasps for air on surfacing.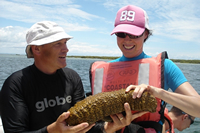 Holding firmly onto the rope and the turtle's front limbs, he manages to pull the floundering sea turtle closer to the vessel and with the help of Colin, lifts it aboard. They quickly start to remove the tightly wrapped crab pot lines, which have been entangled around the turtle's soft neck tissue and have become trapped inside the turtle's mouth. The nylon rope is carefully cut away from around the turtle's throat using wire cutters and a sharp filleting knife, avoiding damaging the turtle further. All the while the frightened animal gasps for air, wriggling its limbs, hissing and snapping its beak in panic.
Finally, after several long minutes, the tight ropes have been removed. Jon and Colin position the turtle right side up, on the side tubes of the inflatable boat and gentle lower it into the water, releasing it freely back into Moreton Bay, near Coochiemudlo Island.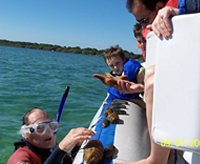 Jon says, "It's an amazing feeling, to be able to rescue a wild turtle from the hazards of mankind. It has left a deep sense of purpose and appreciation for the environment that the turtles live in and how dangerous man has made their world; with propellers, fishing nets, plastic bags and bait bags and now crab pot lines".