Move over Boot Camp – here comes Boat Camp!
Moreton Bay, a massive marine park of some 365 islands just off Brisbane and the Gold Coast, is the tempting backdrop for a new concept in learning and developing teamwork created by Boat Camp operators, OceanXplorerPty Ltd in 2007.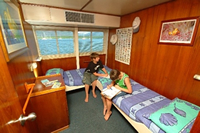 Billed as a "floating classroom", MV Supersport, the 24 metre OceanXplorer headquarters, offers live-aboard accommodation for groups of up to 30 people, as well as a multi-purpose water sports deck, providing access to kayaks, sailing and snorkeling with fully qualified instructors.
A unique feature of Boat Camp – which offers day excursions for up to 80 people and 2 day / 1 night live-aboard packages for 30 people – is the provision of the OceanXplorer Learning Resource Kits. These provide learning modules for Years 7 – 10 specially developed in consultation with teachers to support curriculum requirements of the Queensland marine studies syllabus.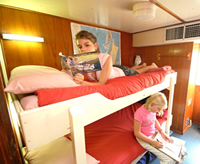 The learning modules include Aquaculture, Coastal Navigation, Diving, Kayaking, Managing Marine Resources, Marine Biology, Maritime History, Oceanography, Pollution and Water Quality, Power-boating, Sailing and Snorkeling.
Founder and Boat Camp Director, Jon Day, says getting active in the great outdoors and discovering a whole new world at sea are keys to "positive learning."
"We all have a natural curiosity for the world in which we live, and that's where the Boat Camp philosophy starts." Jon Day says.
"Moreton Bay is home to dolphins, dugongs, marine birds, migrating whales and turtles, and there's nothing quite like seeing them in their natural environment. There's also some startling history to explore, such as an island formerly operated as a leper colony on Peel Island and some fascinating local industries, such as the oyster leases at Crab Island.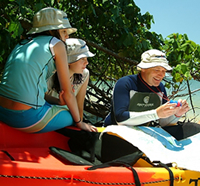 "Actually experiencing our beautiful marine environment first-hand engages kids in a living, breathing, learning adventure, where history, geography, marine science and outdoor training all come together, at Boat Camp.
"The spin offs are a healthy respect for the natural environment, a great sense of pride and achievement through learning new skills and the development of a spirit of camaraderie amongst small groups, that kids hopefully carry with them throughout life."
Departing from Cleveland's Raby Bay harbour, take a leisurely sailing cruise out to SuperSport anchored at Horseshoe Bay south of Peel Island. Two-day camps start from $295 per person and day excursions start from $25 per person. Rates are fully inclusive of all meals and accommodation; all water sports equipment, instruction, learning resource kits and insurance are included.
Inspections are most welcome.

Direct links to pdf brochure downloads for teachers.